2020-10-26
v4.10
PL, TR and ES Localizations
UI translated to Polish. (Adrian Michalczyk)
UI translated to Turkish. (Görkem Tire)
The Guide and UI translated to Spanish. (Jesús G. Cegarra Pérez)
2020-10-12
v4.9
EN Localization
The Guide and UI localization proofread. (Michael Langford)
2020-08-03
v4.8.1
Backend Performance Improvements
Switching to InnoDB database model and replacing TABLE locking by ROW locking.
Fetch call is loading full game data only when needed to include them in response.
2020-07-09
v4.8
DE Localization
German translation of the Game Guide. (Dominik Pielarski)
2020-04-19
v4.7
IT Localization
Italian localization added. (Tiziano Furlano)
2020-03-31
v4.6
FR Localization
French localization added. (Patrick Brown)
2020-01-05
v4.5
Card transfers
Cards can be now moved freely between tables. The Graveyard is an exception. Any card can be moved to the Graveyard by close Burry action. The card can be then removed permanently using delete Remove action.
Collapsible cards
Cards can be collapsed to free more visual space.
Conditions
The new card section is styled like conditions from Fate System Toolkit.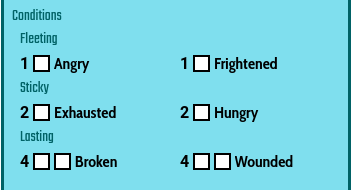 2019-03-10
v4.4
ZH Localization
Added Traditional Chinese localization (Wei Hung/洪偉).
2019-03-10
v4.3
DE Localization
Update of German localization (Markus Raab).
2019-03-06
v4.2
DE Localization
Added German localization (thanks to Markus Raab).
2018-12-31
v4.1
RU Localization
Update of Russian localization (thanks to Dmitry Valkov).
2018-12-27
v4.0
Card Groups
Cards can be optionally sorted into groups. Groups are identified by their name which is filled in the card properties dialog. Groups are stacked vertically and sorted alphabetically.

Full Size...
Stable Ordering
Cards within the group are ordered by their title. This ordering is just a hint for the card positioning engine which tries to reorder the cards to make them use less space.
Note: The ordering of the cards can be affected by choosing right card names. For example you can prefix the names with letters A,B,C,...
Copy Card Action:
Cards can be created from another card by one click. Use icon content_copy in card header. This functionality can be used to prepare card templates.
Older Releases
2018-09-15: Custom tables can be marked to be visible to all players.
2018-08-11: print Print Game action added.
2018-08-05: Czech localization of the Basic Concepts page.
2018-07-18: Fixed blank screen after opening the game caused by update to the newer PHP by my hosting service.
2018-06-21: Localization of the whole UI. Now in English, Czech and Russian.
2018-06-21: Russian presets for Ladder and Skills (thanks to Dmitry Minchenkov).
2018-06-21: Added customizable skill list with presets for Fate Core, Fate Accelerated and d20.
2017-09-15: Fixed: Tokens cannot be moved to other place in Firefox.
2017-05-01: Initial release