The RPG Note Cards is a web application for playing Fate Core or similar games with others over the Internet. I created this app to play the Fate Core with my friends.
I've been looking for an existing solution for a long time, but I've always come to something that supports the game with miniatures, mapping, and complex character sheets. This has but little use in the Fate. In the Fate games we need only a simple way to create sticky notes and place them on shared game table where they are clearly visible for reference. Then a couple of tokens and dices.
Beyond the Fate
The RPG Note Cards is developed with the Fate Core in mind but it can be used to play any other similar games. If you are missing support for some game mechanics or information presentation for your game which can be fitted in the paradigma of the application, please contact me on the feedback email.
Feedback
If you find a bug in the application or if you think the application can be improved to better fit your play style please contact me at feedback email.
Localization
Translation of the Ladder and Skill list Presets
If you want to have Ladder or Skill List in your language and don't want to fill it each time you create a new game, send me the translated list and I will add it to the ladder/skills presets.
Translation of the User Interface
If you want to help me by translating the UI to your language, please contact me. I will be happy to add additional languages.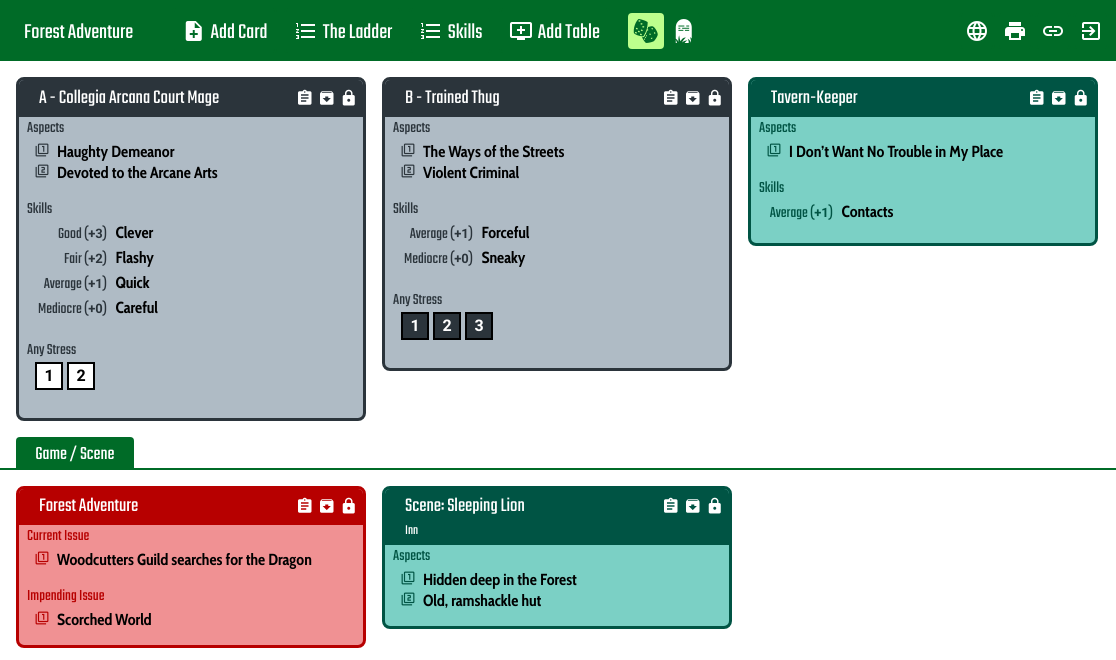 Пожалуйста, прочитайте Основные принципы прежде чем запускать свою первую игру
News
2020-10-26
PL, TR and ES Localizations: Polish localization added by Adrian Michalczyk, Turkish one by Görkem Tire and Spanish localization and translation of the Basic Concepts by Jesús G. Cegarra Pérez.
2020-10-12
EN Localization: Proofread by Michael Langford.
2020-06-09
DE Localization: The Guide translated to German by Dominik Pielarski.
2020-04-19
IT Localization: Italian localization added thanks to Tiziano Furlano.
2020-03-31
FR Localization: French localization added thanks to Patrick Brown.